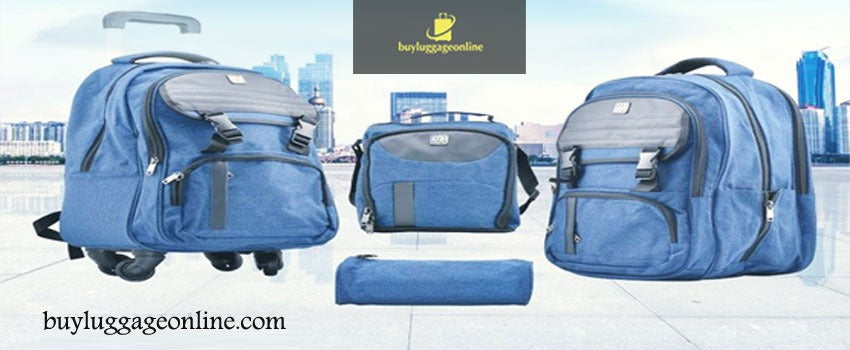 Key Factors to Consider While Selecting an Ideal Travel Bag
For many people, travelling means enjoyment, but there are some who find it stressful. There are many things for which the travelers must take care. Choosing a comfortable bag is one of the sure-shot methods of reducing stress. Whether you are on a vacation or travelling for some official purpose, some belongings are always with us The selection of the bag depends on a multitude of factors. So, you must consider key factors while selecting the travel bag.
The duration and purpose of the trip
The duration and purpose of the trip should be considered while choosing the bag. For a short trip, a backpack is sufficient. If the duration of the trip is long, select a suitcase that can give sufficient space for adjusting belongings. For long-term travel, you must consider a durable suitcase. The bag must be easy to carry during the trips. When you are traveling by air to a long distance trip, it is always recommended to carry a quality bag. A multipurpose backpack can be conveniently carried anywhere. Just make sure all the belongings that you require during the journey can be easily adjusted. The noted backpack Dubai suppliers like the Buy Luggage Online provide a sufficient number of options to the customers. A backpack gives complete freedom of movement.
The content of the bag must be protected
Sometimes, we carry fragile items on the journey. If there is some sensitive breakable item, just invest in a sturdy bag. There are many tourists who do a lot of shopping during their trip. So, there should be sufficient space for additional items. Any products that are made of glass or fragile electronic gadgets must be protected. The packing habits of the traveller should also be considered. 
Choose a convenient small-size bag for a short journey
While enjoying the vacation, many of us participate in activities like hiking, camping. For short trips, amusement rides and excursions, you must utilize backpacks and duffel bags. When multiple gears are to be carried for a short distance, a duffel bag is an ideal choice. These days more and more travellers are choosing duffel bags with trolleys. It is easy to move with such portable bags. The extendable handle makes it a comfortable choice for the tourists. 
Efficient packing can make your journey more comfortable
Those who frequently travel by air are familiar with the norms. There could be limitations regarding the size and weight of the bag. You must not carry unnecessary objects or else get prepared to pay more money. Efficient packing makes a journey more comfortable. It also saves space in the bag as well as money.
Material of the travel bags
A waterproof, lightweight and durable bag made of high class material has the ability to protect all your belongings. Selecting a bag with multiple features will make your journey comfortable. How frequently do you travel and what is the mode of travel are also important factors to consider while selecting the bag
External features and color
If you are planning to go for a distinguishable colour, then choose a bag of yellow, pink color. Smart travellers also add some identification mark on the bag. Such smart tricks reduce the chances of bags getting misplaced and interchanged. Bags with a set of wheels are easy to maneuver. Instead of struggling with heavy bags or exerting tremendous strain on your shoulders, just go for bags that have a set of wheels. Also, check whether or not there are additional features such as a retractable handle. Do not compromise with your needs and preferences.
Look for a convenient laptop bag
Students, businesspeople, working professionals must carry their laptop in a separate bag. Eminent is a noted brand of laptop bag. A compact computer that makes life easy and comfortable is none other than a laptop. All of us are habitual of using this portable computer. A laptop bag with multiple compartments is the first choice of corporate employees, students and even businessmen. There are many additional accessories and gadgets used with laptops. Choose bags that are durable, stylish, checkpoint-friendly. Smart customers select bags offering sufficient internal space to easily adjust everything. During a journey, carry your laptop separately. This will bring more flexibility and comfort.