Carry-On or Checked Luggage, Which Is Better For Traveling?
Choosing the right luggage can greatly affect your travel experience. The decision of which luggage to buy can be difficult if this is your first-time purchasing luggage. Checked luggage vs. Carry-on can be a challenge for even seasoned travelers.
THE FACTORS TO CONSIDER WHEN CHOOSING CARRY-ON OR CHECKED LUGGAGE
Depending on the nature of your trip, you may be able to fit a few clothes into your travel bags, or you may have to take a full suitcase. The size and weight of your checked bags, along with whether you are carrying items you may not be able to review, are important factors to consider.
Are you planning on packing a lot?
In choosing between carry-on luggage and checked luggage, this is the most important factor to take into account. During a long weekend, you may only need a carry-on bag. You'd be better off checking in a full-sized suitcase if you're planning to stay several weeks at your destination or need to transport gifts or business equipment.
Including two bottoms, five tops, and underwear, you can fit ten days' worth of clothing into a carry-on. Dress in clothes that you can mix and match to create different looks.
On the other hand, checked-in baggage is usually large enough to pack thirty days' worth of clothing for hot and temperate climates. You can fit fifteen days' worth of clothing in a check-in suitcase if you're headed to a cold destination.
Baggage fees
Each airline company charges different baggage fees. In most cases, airlines charge $30.00 to $35.00 for your first piece of checked luggage and $45.00 for a second piece. Additional fees apply to overweight bags over the airline's weight limit.
Carry-ons were traditionally free on most airlines. In recent years, however, some airlines have now charged for carry-on luggage. Carry-on luggage can also be weighed and measured by the airline before being allowed to board, and if it exceeds the airline's limits, you may have to check it.
In addition to baggage fees, airline carry-on sizes and weight restrictions vary. Some airlines allow carry-on luggage with dimensions of 22" x 14" x 9" or smaller. Weight restrictions vary but can be as low as eleven pounds on some flights.  
Item Restrictions
Carry-ons are limited to several items. There are some restrictions on carry-ons, including liquids, aerosols, sporting goods, knives, straight razors, e-lighters, and box cutters that could be considered weaponry.
Some items can only be packed in carry-on luggage but not checked baggage. Including lithium batteries and vaping devices, this is a short list.
 CARRY-ON LUGGAGE VS. CHECKED BAGGAGE CONTRADICTIONS
People who prefer to travel light should opt for carry-on luggage. You can save on baggage fees without checked baggage and move through airports faster. 
 Itineraries that are suitable for carry-on luggage include: 
Short-term visitors.
Continually on the move while on a trip.
The only clothes you'll need are light ones for trips to warm climates.
A carry-on bag also offers the following benefits:
If you don't have baggage, bypass the ticket counter and check in using self-check kiosks or mobile apps. 
You won't have to pay baggage fees (unless you have to pay for carry-ons). 
You will not have to wait at the baggage carousel after disembarking from the plane.
Carrying a carry-on allows you to pack up your belongings quickly if you constantly switch hotels and locations.
CARRY-ON LUGGAGE: WHEN NOT TO USE IT
Remember, though, that it's not all as it seems. Despite its convenience, carry-on luggage has some disadvantages. One of the most obvious problems is luggage size. You can pack a certain amount of clothing and other items. Consequently, it is difficult to pack clothing for multiple occasions: you will probably wear the same dress to dinner as you shop. Also, you can only bring small souvenirs and gifts home.
 Among the downsides of carry-on luggage are:
You may have to check your luggage anyway if there is not enough overhead bin space to store everyone's carry-on luggage. 
Each child probably has a suitcase if you're traveling with kids and using carry-on luggage. If you have that much luggage to keep track of, check-in luggage might be a better solution.
When you travel with your carry-on, you'll constantly be carrying it, which can be tiring during long layovers. 
A carry-on won't provide enough space for heavier clothing when traveling in a cold climate. 
You can move through security more quickly without a carry-on bag.
 Is it a good idea to use checked luggage?
Serious travelers should check their luggage. Especially if you plan to return home with large souvenirs and gifts, it's the right choice when you need more packing space. Unless you need to travel within carry-on size restrictions, checked luggage is recommended for longer trips of a month or more.
 There are many benefits to checked luggage, including:
You no longer need to worry about your carry-on being too large or whether there will be enough space in the overhead compartments. In the last decade, misplaced luggage cases have declined sharply, so you don't need to worry about lost baggage. 
Pack a better wardrobe with extra space in your checked-in baggage, which can hold a month's worth of clothing. 
You don't need to bring extra clothes, shoes, or a clothes steamer. Just get what you want! You can do so as long as you have checked baggage.
You won't have to lug around a heavy bag once you are check-in. It's easier to haul a small bag than a large suitcase through the airport if you need to carry essentials and electronics.
Bottom Line
Now that we know what check-in baggage and hand baggage are, which is preferred? Both types of luggage have pros and cons, the truth is. Having a thorough understanding of carry-on luggage and suitcase differences can help you make the right choice.
For instance, carry-on luggage is much more affordable than checked luggage. Usually carry-on bags do not incur any additional fees. Thus, traveling with only carry-on luggage can save you money. In addition, there will be no long lines or luggage carousels to wait in. In this way, carry-on luggage helps you get through the airport more quickly.
Do you have to pay for checked luggage? Usually, yes. And this is one of the downsides. There's also the fact that you have to wait in more lines and spend more time at the airport. However, checked luggage has fewer restrictions and gives you more space. 
So, overall, the answer to our initial question is that it depends. Sometimes, checked luggage is the most convenient option, like if you're planning a long trip or traveling with family. Other times, carry-on luggage will suffice.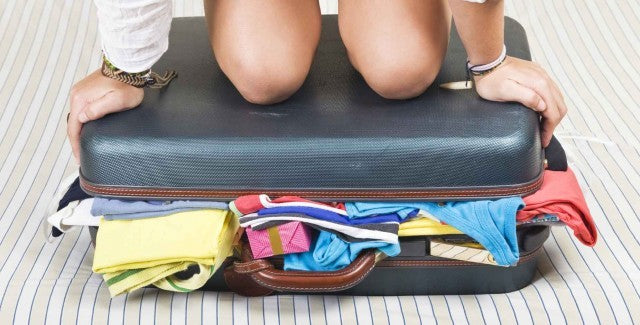 How to Choose the Perfect Suitcase
Travel bags are baggage bags that come in a variety of sizes, shapes, capacities, and styles. Trolleys, duffel bags, and carry pouches are all examples of travel bags that serve a variety of purpo...
Read more